Anyone who has ever been involved in any sort of construction knows it can take days for materials to be delivered or a scaffold to be erected. To add to the frustration, sometimes your entire team is waiting for that to happen. It's a tough time indeed.
When we started looking for something small to cover a few days for the team before the next job started, it was exactly one of those times. As I was browsing the Rated People website, I came across an interesting job post:
"I want to create a false wall, so my TV and speakers look embedded. Also, want to add a floating cabinet for housing my TV devices."
Dry lining is what we do for a living. What's more, the job was in Chatham, just a few miles away from our head office in Maidstone. We had also built a TV unit and a fireplace for one of our clients in the past, so it was worth a try.
After purchasing the lead, I was on the phone with the client to find out the exact requirements. Luckily, he had prepared everything (including architectural drawings) in advance, allowing us to organise material delivery quickly and start the job without delay.
TV Wall Design
There was nothing unusual about the wall design. We positioned the spaces symmetrically on both sides and made a place for the TV, floating cabinet for sky box, and internet router. The biggest advantage of this type of TV wall is that all cables can easily be hidden behind the wall. No one wants to see cables hanging around! On this note, make sure you read our top tips for hiding TV cables at the end of this article.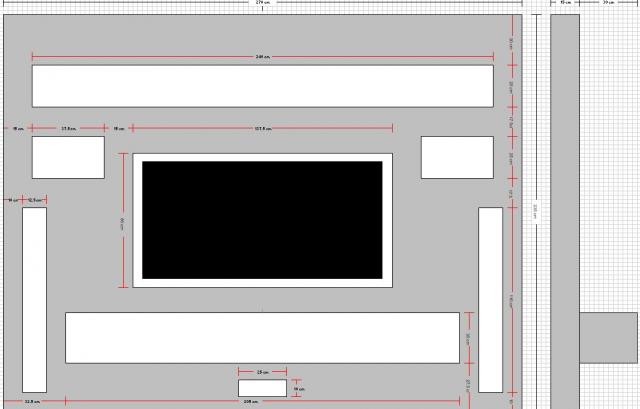 TV Wall Installation Steps
First, we covered the floor of the living room and all the areas used to load materials (staircase, corridor) for protection.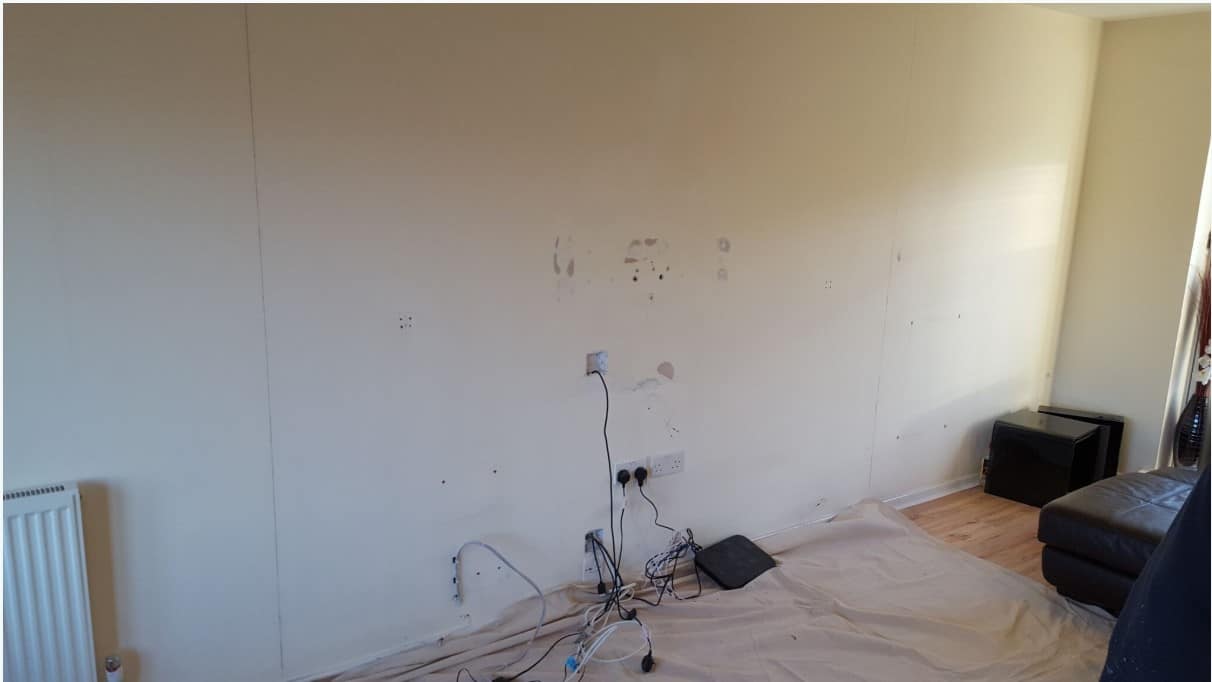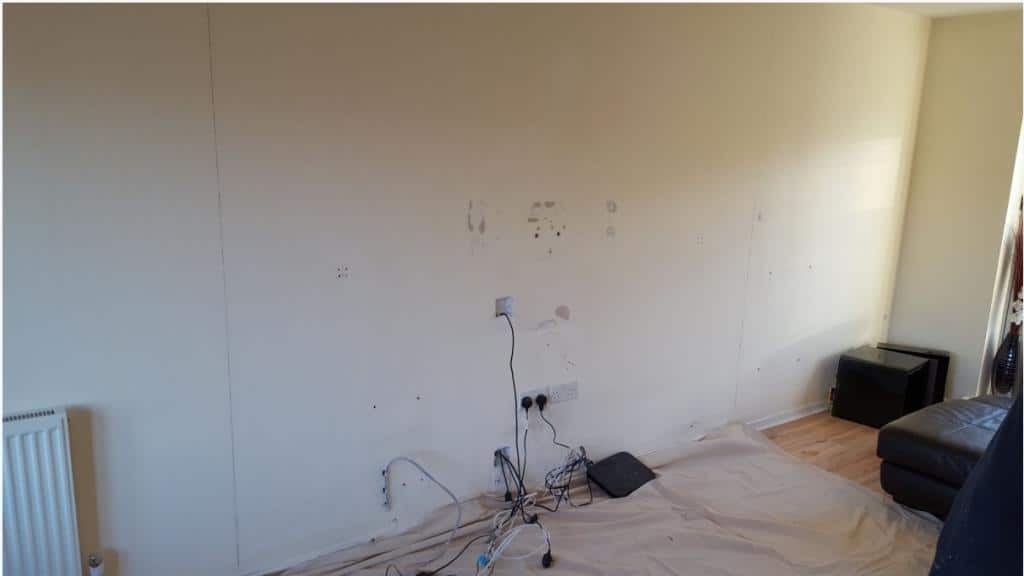 We used the existing wall to establish all the details based on the drawing above.
Each detail of the TV wall had to be fixed to the existing wall and then the new wall had to form around that because only two of the metal studs were going bottom to top. Thus, we couldn't achieve the stability needed to use the new wall as a holding one.
We removed the existing plasterboard, fixed plywood to hold the new wall, closed the wall back, and redrew all the details.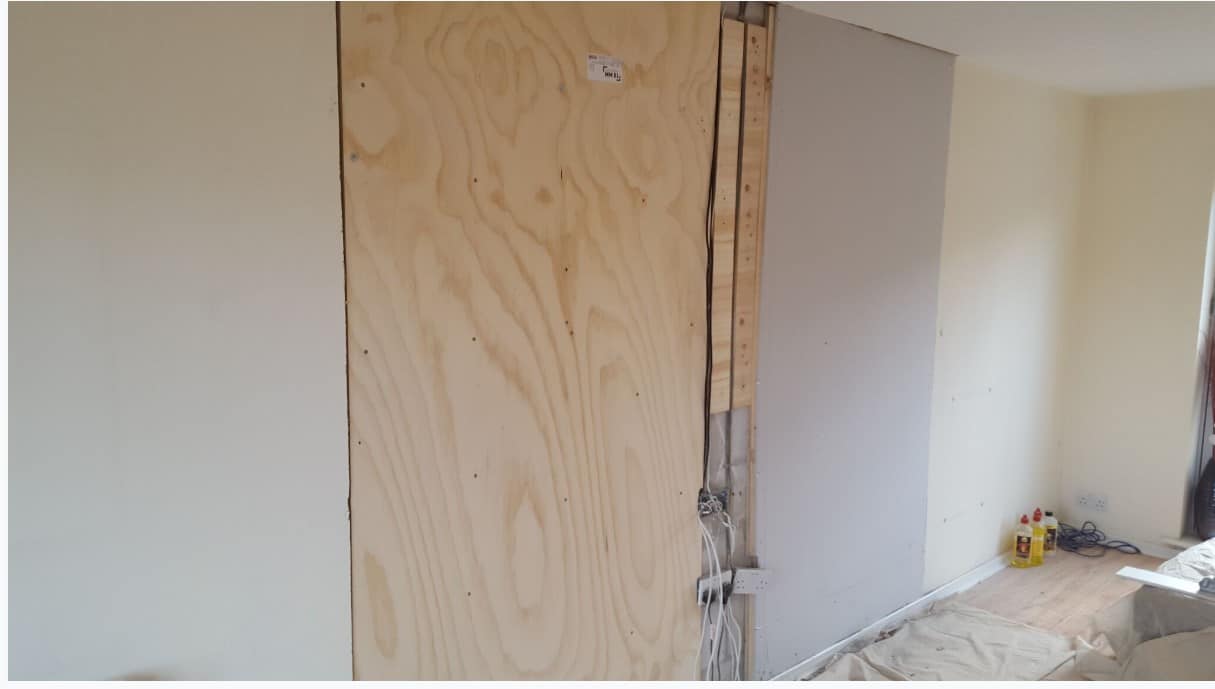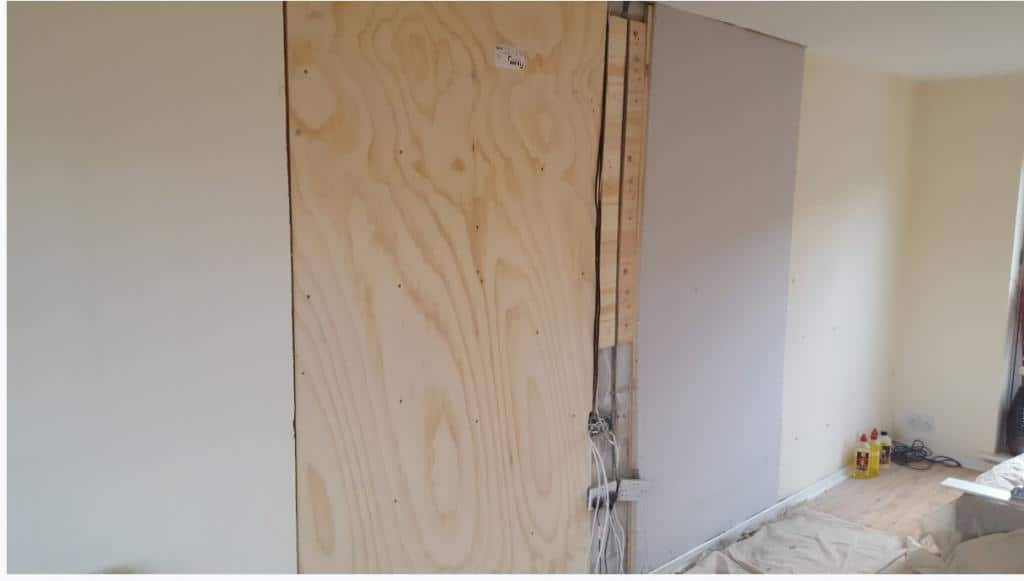 After that, we started the main job – forming each element individually and finishing the front wall.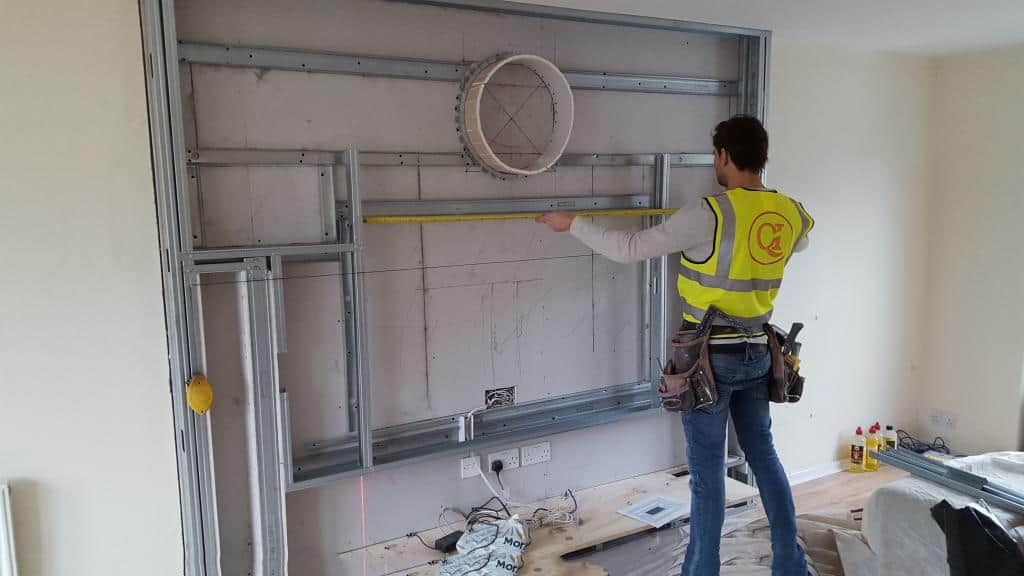 The next step of the project was to tape and joint everything and prepare the wall for painting or wallpapering.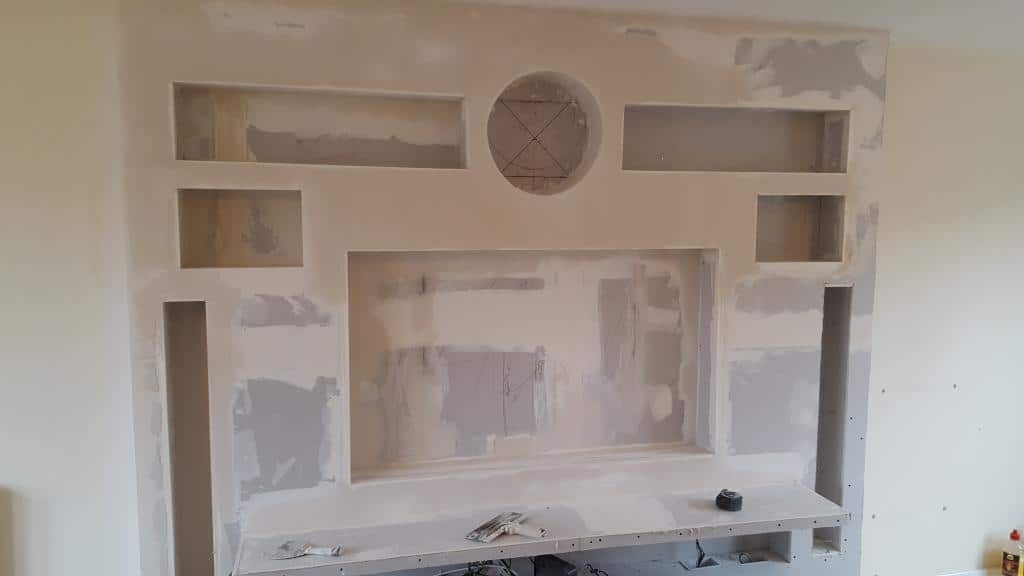 Initially, we were told that the wall would be papered over, but then the client decided artificial stones would achieve a better effect. He ordered them from Germany.
We started installing the stones after everything was prepared for tiling.
After the tile adhesive dried, we cleaned and polished the tiles using tile polish.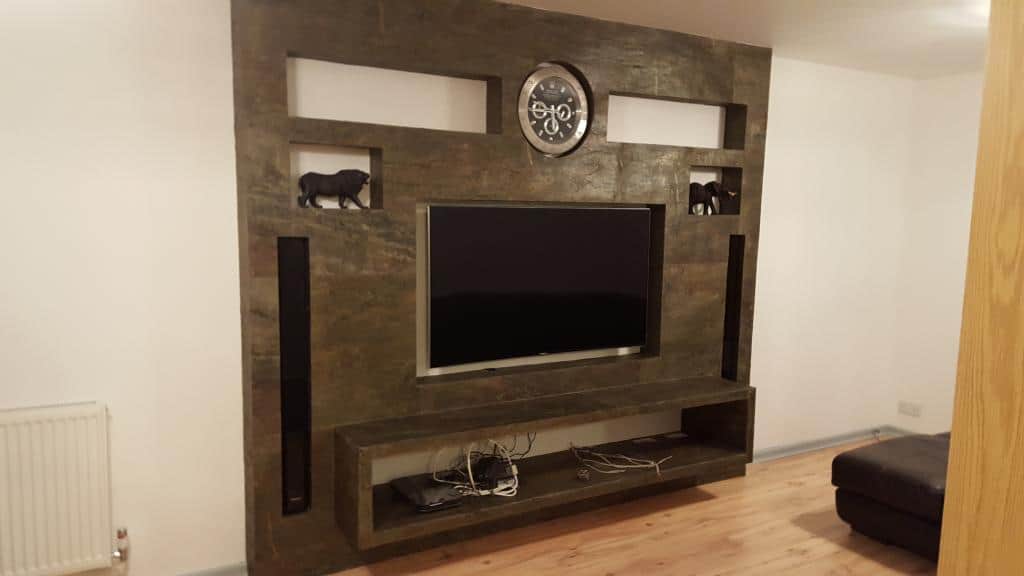 Good reviews always follow a good job!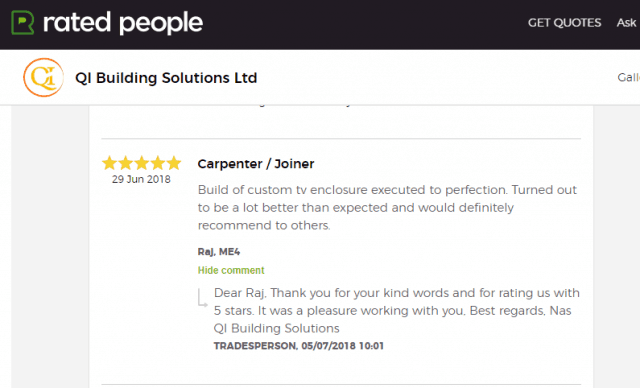 Last but not least, as promised:
Expert Tips: Top 5 Ways to Hide TV Cables
1. Behind the Wall
Most new construction uses stud walls for internal partitioning, and it's very easy to hide the cables thanks to this. All you need to do is drill two small holes – one behind the TV and the other right below it at floor level. Then feed the cables down and through before plugging them into sockets behind the entertainment unit or TV stand.
2. Create a Decorative Panel
It is a good idea to create a false wall or decorative panel if you have brick or concrete walls on your hands. A TV unit is one of the best ways to hide TV wires and cables. It will not only resolve your cable management issues, but also make storing entertainment boxes, game consoles, or DVD players easier. Regardless of whether you opt for a custom-made TV stand or a ready-build cabinet, most are available with cut-outs at the back of the structure, through which one can feed cables neatly and easily.
If you don't want to drill through stud walls, a false wall or decorative panel, on which to mount the TV is an excellent option. More specifically, this can be a simple MDF, timber, or plywood panel, either wallpapered, painted, or clad in timber. The panel is then fixed to the wall with the cables running behind it. This will not only hide the cords and cables effectively, but may also become a remarkable feature of your space.
3. Use Cable or Cord Clips
Cord or cable clips are an affordable, efficient way to keep all your TV cables in order. Some of them are self-adhesive (those which are suitable for just one cord), while others need screwing in. We recommend using them on the back of TV units or stands to keep the floor clear of cables and to make sure each cable is separate and easy to access. They can be attached to the underside on wall-mounted TV units.
4. PVC Trunking
There are many advantages to installing cables in PVC trunking. If you don't want the trunking to be a different colour, it can be painted over. Trunking looks much better than loose cables. What is more, cables can be pulled out easily, you don't need to drill or cut holes in your walls, and there is no dust with trunking. When done well, PVC trunking can practically be invisible, especially if it is the right size and shape.
5. Hide Your Power Strip
All the cable clutter originates from the power strip, so raising it above the ground will keep all the cables out of sight. Most power strips can be hung on the wall with several nails or screws because they have holes on the back. Install the power strip just below the base if your entertainment unit has legs so there won't be a gap between the wall and the furniture or plug your wall-mounted power strip right into the outlet.